UPCOMING EVENTS
Check out the upcoming events and activities taking place at the Italian Club of Tampa!
The events listed below are being hosted by the Italian Club and/or our affiliates. Please click on the flyers to get detailed event information. If you would to purchase tickets to any of our upcoming events, please click the link provided or call the phone number listed on the event. Proceeds from our events benefit the Italian Club Building & Cultural Trust Fund, a registered 501C3 organization (Certificate #:59-2708291) dedicated to the ongoing preservation of our historical facility and the commitment to the Club mission statement.
---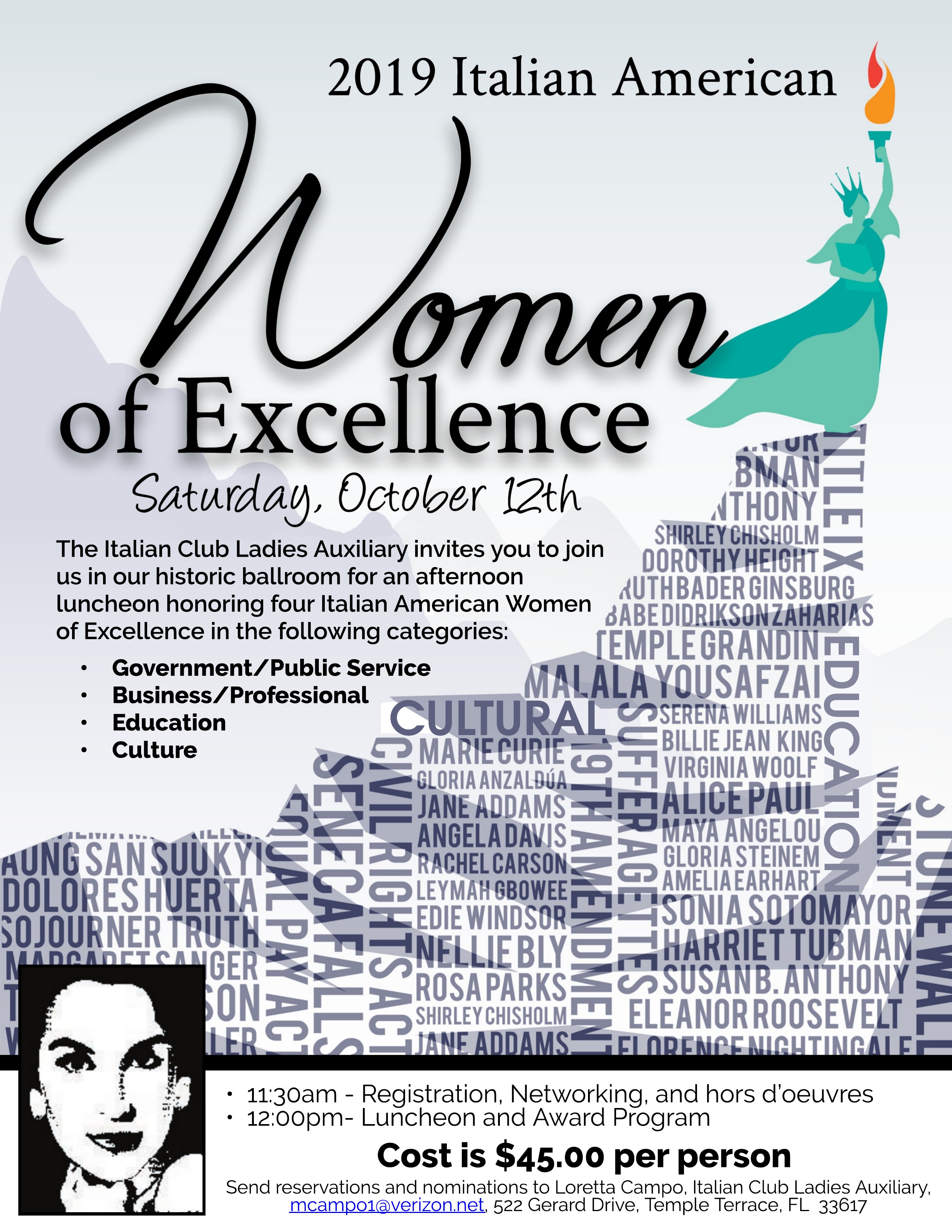 Italian Club Ladies Auxiliary presents…
2019 ITALIAN AMERICAN WOMEN OF EXCELLENCE
Saturday, October 12th
The Italian Club Ladies Auxiliary is excited to again be hosting the bi-annual Italian American Women of Excellence Program at the Italian Club on Saturday, October 12th 2019. This very special event recognizes and honors outstanding Italian-American women in the Tampa Bay area. We are now accepting nominations from our members, families, and friends. The criteria for nominations is listed below. If you have any questions about this event, or the nomination process, please contact Loretta Campo at (813)899-0969, or via email at MCampo1@verizon.net Download Nomination Form Here
PLANNING TO ATTEND?? -If you would like to join us please contact Loretta Campo at (813)899-0969, or via email at MCampo1@verizon.net

---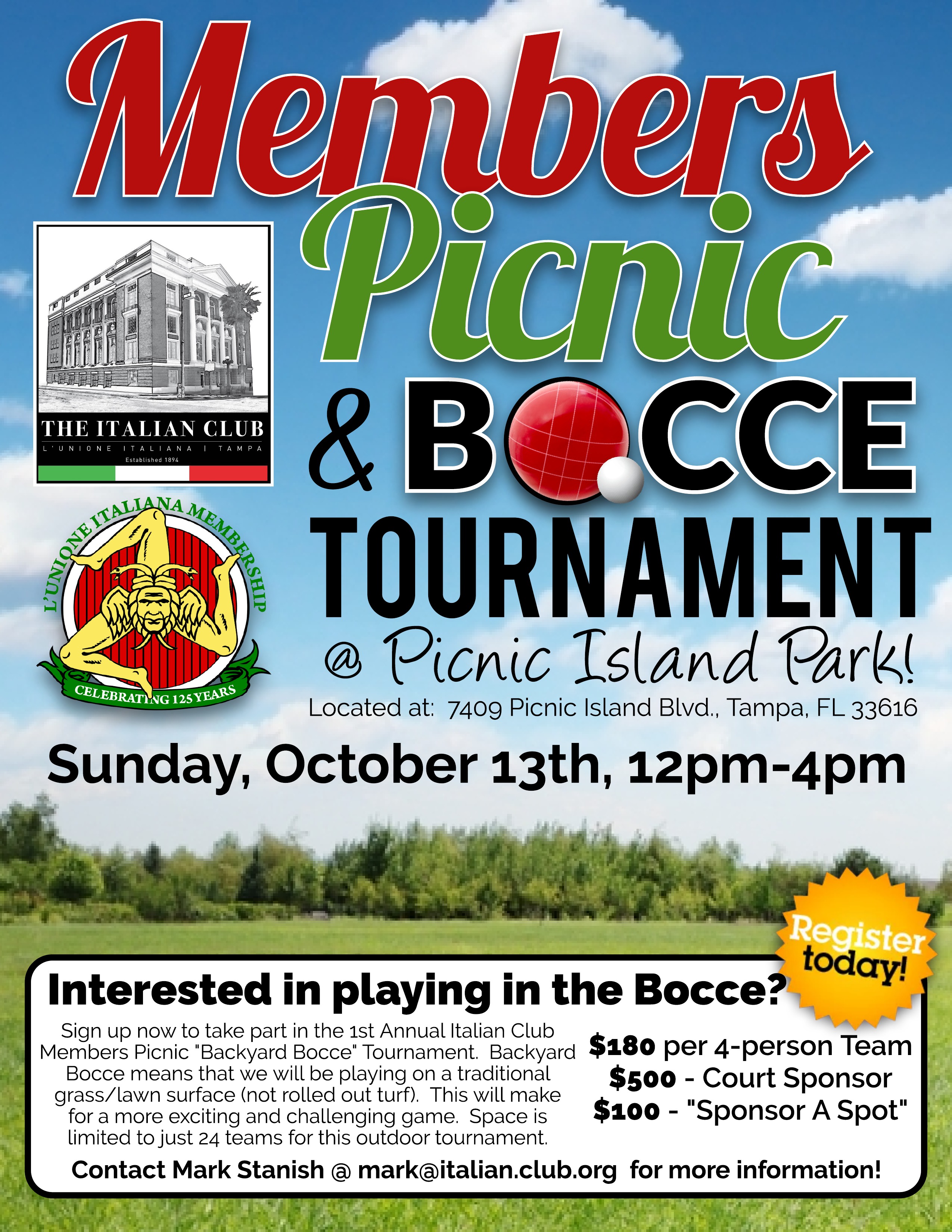 ITALIAN CLUB MEMBERS PICNIC & "BACKYARD" BOCCE TOURNAMENT
Sunday, October 13th, 12:00pm-4:00pm
Join us as the Italian Club of Tampa revives an events last held decades ago – our Annual Members Picnic – taking place on Sunday, October 13th at one of Tampa Bay's most beautiful parks, Picnic Island! Picnic Island Park is located at the southern most point of Westshore Blvd., and offers an expansive, beautiful park environment with shelters, grilles, ample parking, and large open areas for our backyard bocce tournament and other outdoor games. Picnic Island also has a large beach for families and children. This will be a family-friendly event, that is FREE TO ATTEND, and open to members, families, and friends of the Italian Club. We encourage you to bring lawn chairs, blankets, etc. as well and enjoy the afternoon in the park! We will be providing a DJ for the entire event!
PLANNING TO ATTEND?? – If you plan to attend this picnic, we kindly ask that you please RSVP with your name and total attendees. RSVP TO THE PICNIC BY CLICKING HERE!

---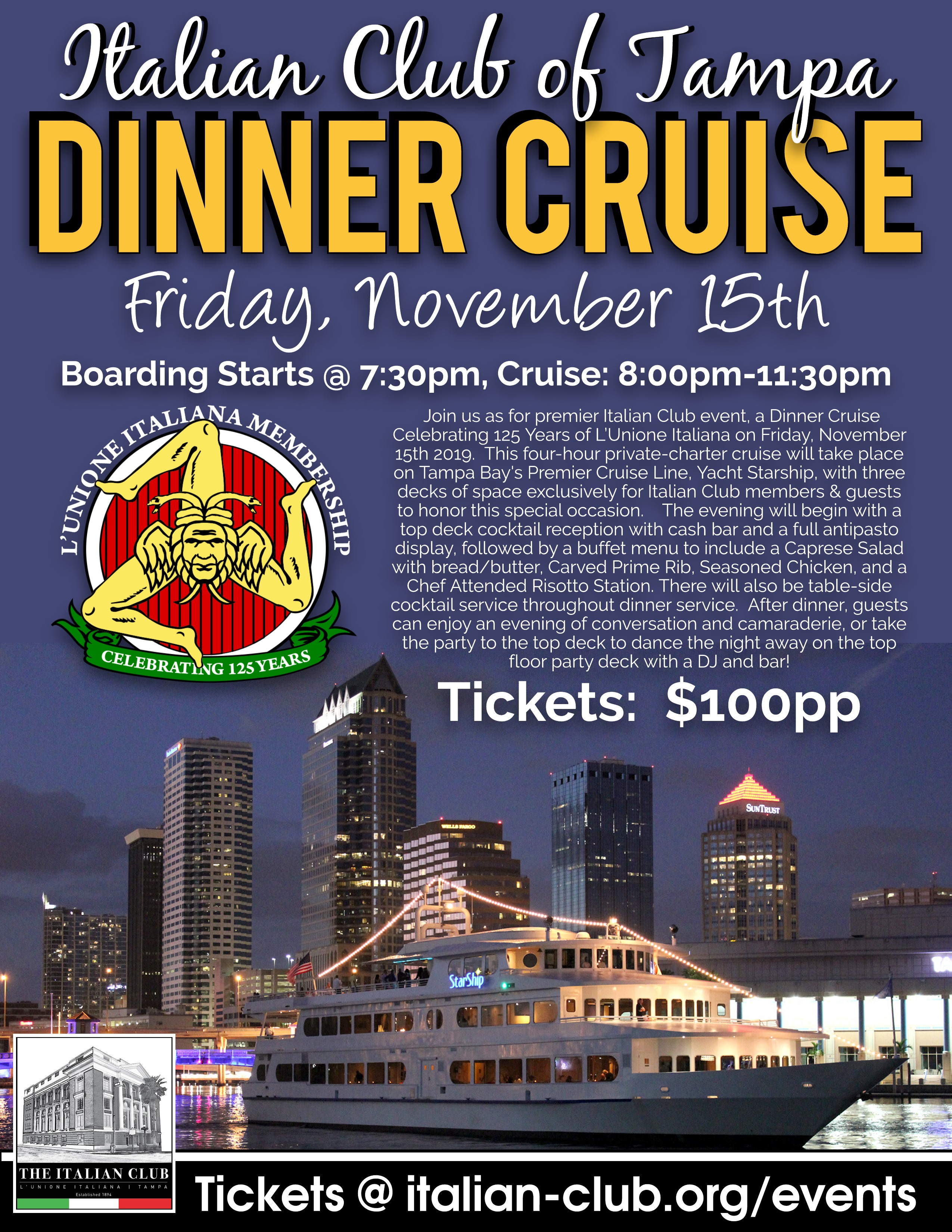 ITALIAN CLUB DINNER CRUISE: CELEBRATING 125 YEARS
Friday, November 15th, Boarding at 7:30pm, Cruising 8:00pm-11:30pm
Join us as for premier Italian Club event for 2019, a Dinner Cruise Celebrating 125 Years of L'Unione Italiana on Friday, November 15th 2019. This four-hour private-charter cruise will take place on Tampa Bay's Premier Cruise Line, Yacht Starship, with three decks of space exclusively for Italian Club members & guests to honor this special occasion. The evening will begin with a top deck cocktail reception with cash bar and a full antipasto display, followed by a buffet menu to include a Caprese Salad with bread/butter, Carved Prime Rib, Seasoned Chicken, and a Chef Attended Risotto Station. There will also be table-side cocktail service throughout dinner service. After dinner, guests can enjoy an evening of conversation and camaraderie, or take the party to the top deck to dance the night away on the top floor party deck with a DJ and bar! 

$100 per person, which includes tax and service charges
WANT TO JOIN US?? – If you'd like to purchase tickets to this event, it is strongly suggested that you do so early. We have limited seating on the ship, and we are expecting a large turn out for this very special celebration. Tickets can be purchased by CLICKING HERE!

---