UPCOMING EVENTS
Check out the upcoming events and activities taking place at the Italian Club of Tampa!
The events listed below are being hosted by the Italian Club and/or our affiliates. Please click on the flyers to get detailed event information. If you would to purchase tickets to any of our upcoming events, please click the link provided or call the phone number listed on the event. Proceeds from our events benefit the Italian Club Building & Cultural Trust Fund, a registered 501C3 organization (Certificate #:59-2708291) dedicated to the ongoing preservation of our historical facility and the commitment to the Club mission statement.
---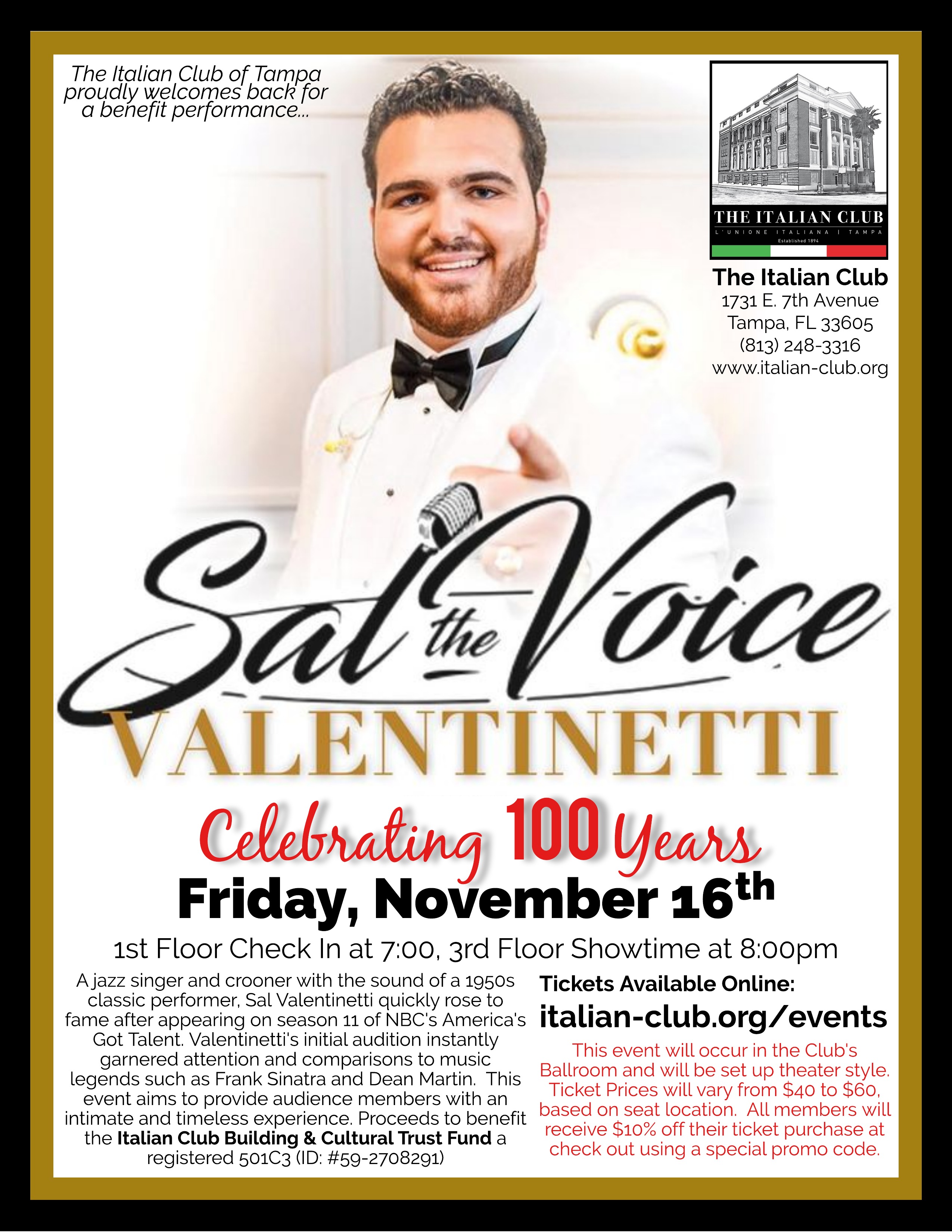 Sal "The Voice" Valentinetti: Celebrating 100 Years
Friday, November 16th
Check-In @ 7:00pm, Showtime @ 8:00pm
A jazz singer and crooner with the sound of a 1950s classic performer, Sal Valentinetti quickly rose to fame after appearing on season 11 of NBC's America's Got Talent. Valentinetti's initial audition instantly garnered attention and comparisons to music legends such as Frank Sinatra and Dean Martin. This event aims to provide audience members with an intimate and timeless experience, all part of a benefit performance to commemorate the Italian Club's 100 Year Celebration. Proceeds to benefit the Italian Club Building & Cultural Trust Fund a registered 501C3 (ID: #59-2708291)
OPEN TO THE PUBLIC
---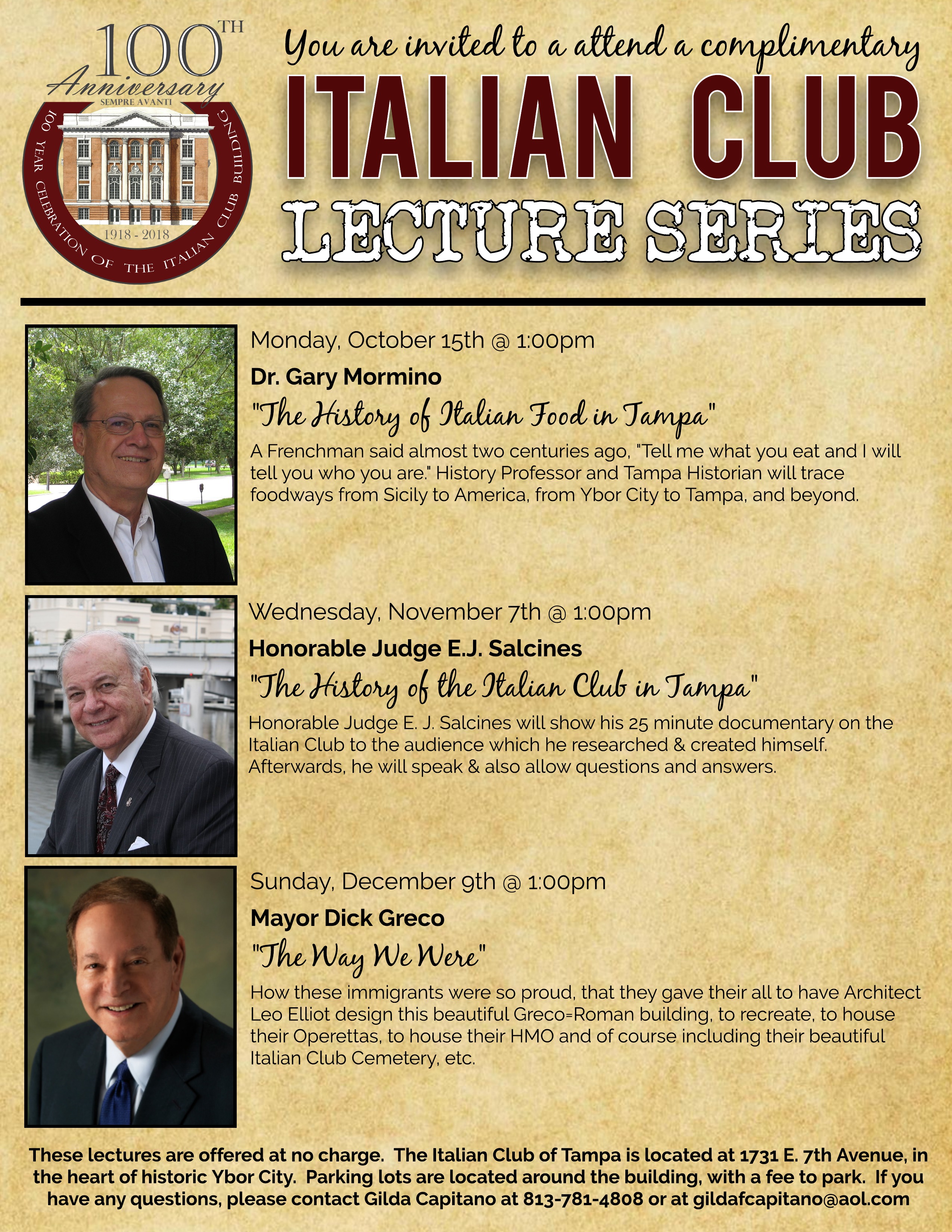 100 Year Celebration: Lecture Series
October, November, & December
Lectures Start at 1:00pm
The Italian Club is hosting a series of historical lectures in the coming weeks, which are being held in conjunction with the Club's 100 Year Celebrations. We wanted to share this information with the Tampa Historical Society in hopes that we can spread the word. These lectures will be held at the Italian Club, free of charge, and are going to focus on Italian culture, heritage, and our Club. I have attached the Lecture Promotion in hopes that you would share this with your contacts and colleagues. Thanks again for your support of the Italian Club of Tampa!!
For More Information, please email Gilda Capitano at gildacapitano@aol.com
---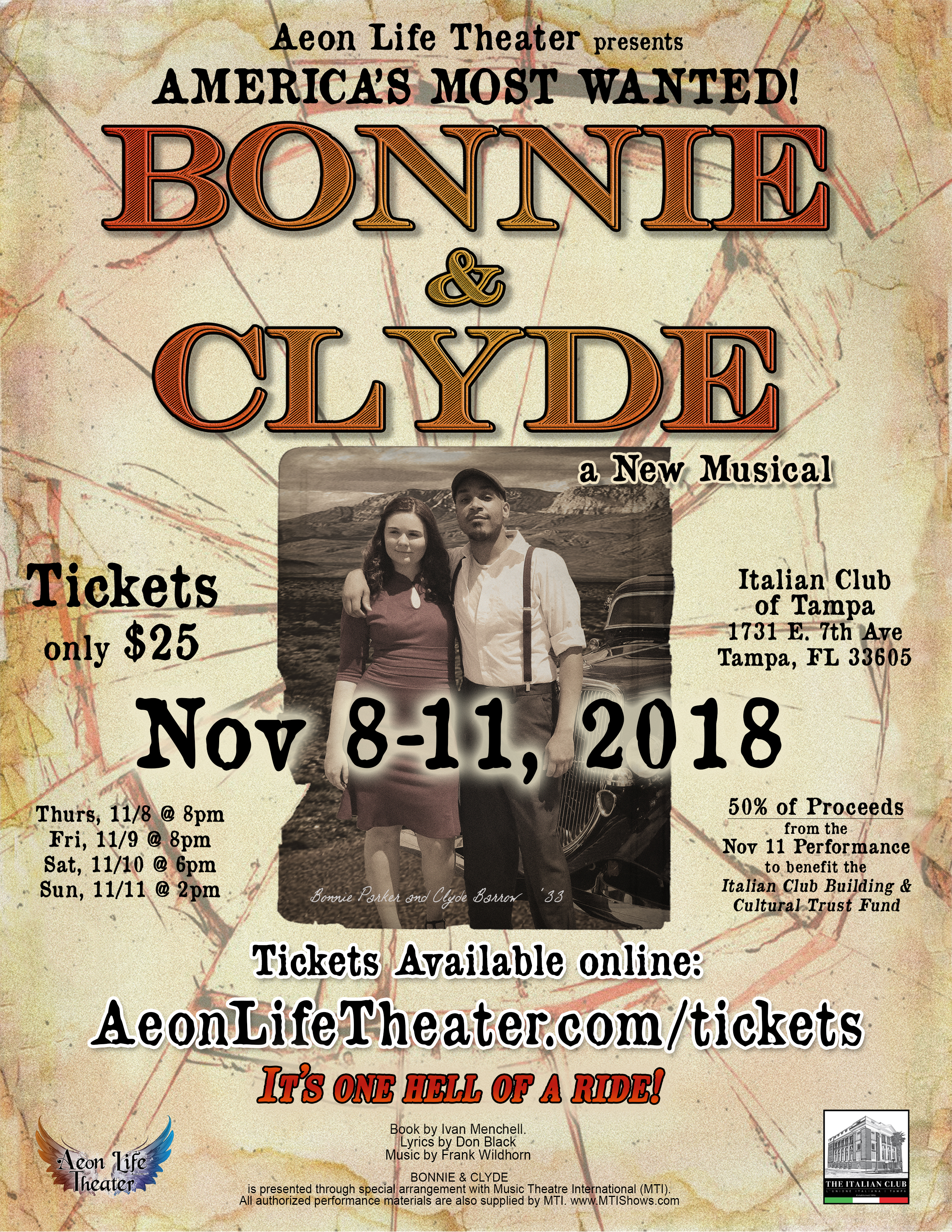 Bonnie and Clyde: A New Musical
November 8th-11th, 2018
11/8 @ 8pm, 11/9 @ 8pm, 11/10 @ 6pm, 11/11 @ 2pm**
Bonnie & Clyde" tells the story of real-life fugitives, Bonnie Parker and Clyde Barrow. In the midst of the country-wide depression the couple find notoriety and love in this thrilling, fast-paced musical. Frustrated with their poor, ordinary lives, Bonnie and Clyde both dream of the exciting lives they have seen in the movies. After escaping from jail, Clyde meets Bonnie and recognizes a fellow dreamer. Their craving for fame and thrills leads them into a life of crime and a life on the run. Despite the pleas of their families, the couple embark on a series of robberies at gunpoint, continuously evading the police and becoming the celebrities they desperately wanted to be. As the infamous duo's fame grows bigger, their inevitable end draws nearer. "Bonnie & Clyde" is the electrifying story of love, adventure and crime that captured the attention of an entire country. Seating is General Admission. Rated PG-13 for violence, sexuality, and some language. Warning: Use of strobe lights, fog/haze machines, gun shots, and blood effects. All weapons used in this production are replicas, cap or toy guns, and prop guns. No actual guns are used or fired. **50% of Proceeds from the Sunday, Nov 11th performance to benefit the Italian Club Building & Cultural Trust Fund a registered 501C3 (ID: #59-2708291)
OPEN TO THE PUBLIC
---