UPCOMING EVENTS
Check out the upcoming events and activities taking place at the Italian Club of Tampa!
The events listed below are being hosted by the Italian Club and/or our affiliates. Please click on the flyers to get detailed event information. If you would to purchase tickets to any of our upcoming events, please click the link provided or call the phone number listed on the event. Proceeds from our events benefit the Italian Club Building & Cultural Trust Fund, a registered 501C3 organization (Certificate #:59-2708291) dedicated to the ongoing preservation of our historical facility and the commitment to the Club mission statement.
---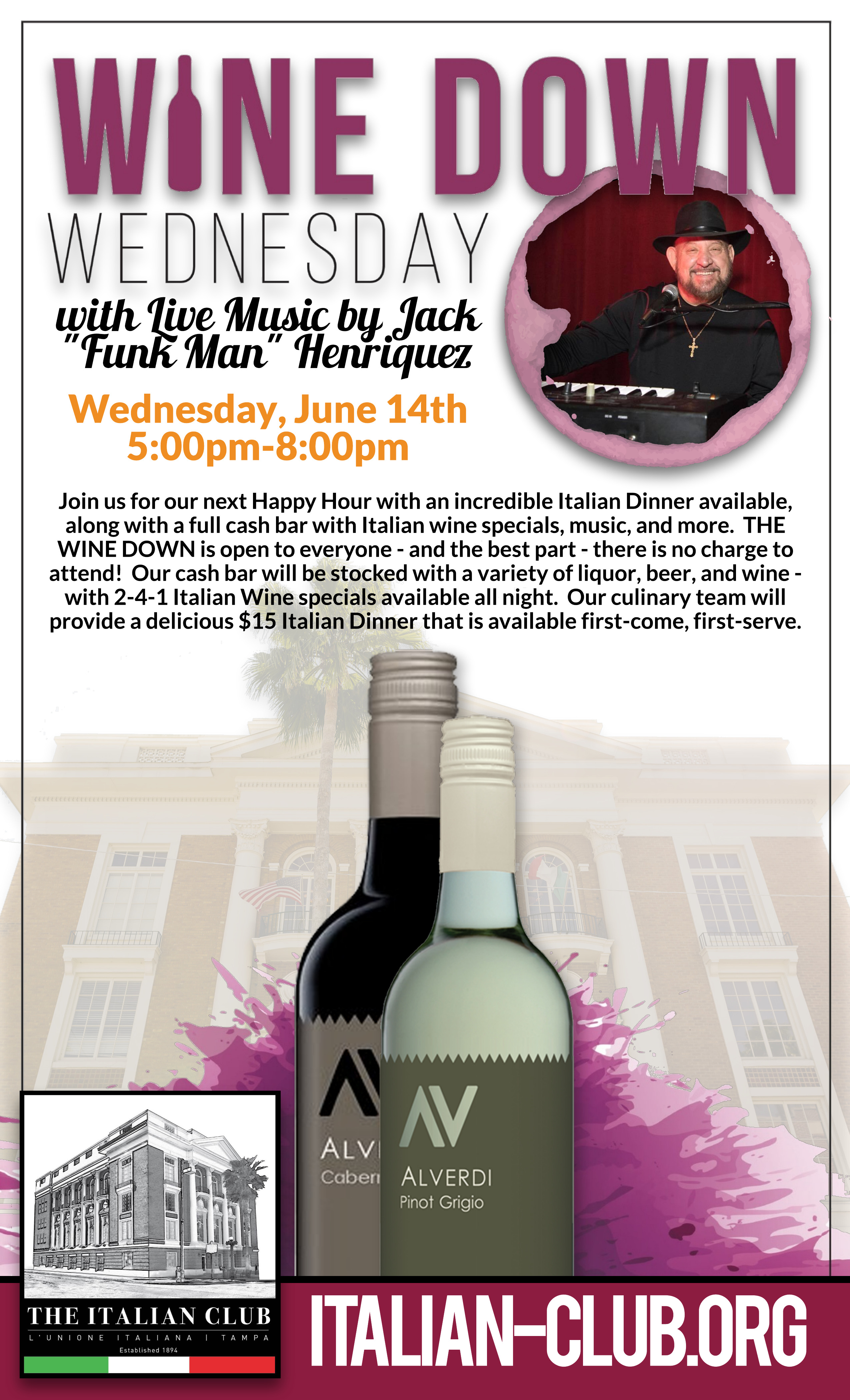 ITALIAN CLUB'S WINE DOWN HAPPY HOUR
ONE NIGHT ONLY: Wednesday, June 14th – 5pm-8pm
EVENT DETAILS – Join us for our next WINE DOWN Wednesday, June 14th from 5pm-8pm. Our Happy Hour will take place in our first-floor Cantina with an incredible Italian Dinner Buffet, full cash bar, music, dancing, and more. THE WINE DOWN is open to everyone – and the best part – there is no charge to attend! THE WINE DOWN is a casual happy hour social event, meaning no reservations are necessary. Our cash bar will be stocked with a variety of liquor, beer, and wine – with 2-4-1 Italian Wine specials available all night. Our culinary team will provide a delicious Italian Dinner Buffet, complete with salad, bread & butter, entrée, pasta, and vegetable! We are excited to be partnering with our long time friends at Tony's Catering to provide our delicious dinner buffet for just $15 per person. The buffet is available first-come, first-serve. THE WINE DOWN will take place on the 2nd Wednesday of every month. Mark your calendar! We hope to see you there! THIS EVENT IS OPEN TO THE PUBLIC!
---