HISTORY
The Italian Club of Tampa By: Retired Judge E. J. Salcines
Prepared for Tampa: Untold Stories City of Tampa Television CTTV, April 2018 Commemorating the Centennial of the Italian Club Building
In 1918, as the building was being completed – there was much jubilation in Tampa's Italian community – and plans for a large grand opening were being made. This new Italian club building was designed by award-winning Tampa architects Leo Elliott and B. C. Bonfoey who had also designed the 1915 city hall downtown and the new Cuban Club at Palm Avenue and 14th street that was also being completed at the same time as the new Italian Club. This new Italian Club included a combination of Italian, Spanish and Greek architecture. A true architectural gem.
This was their second Italian Clubhouse because their first Italian Club building that had been built in 1911 had unfortunately been destroyed by fire in May of 1914. It was originally located at 1724 7th avenue, across the street from the present building. That first building had opened October 11, 1912 with a 3-day celebration and built at a cost of $60,000 when the Italian Club had 900 members. The new clubhouse would cost about $120,000.
The architectural design of this magnificent Italian Club building is truly palatial. The architectural inspiration came from the ancient Italo Greek temples that were erected many centuries ago – in the Agrigento area in southern Sicily – an area called the valley of the temples. This magnificent 3-story building with the impressive classical Greek columns stands as an important landmark and a powerful symbol of Tampa's Mediterranean heritage. Completed in 1918 – this second Italian Club building has been the center of social, cultural and educational functions to the present day.
The building has a magnificent theatre with an auditorium balcony (later converted for a short time to a movie theatre), and spacious dance floor, library, cantina, and recreation rooms, some that have served as classrooms. In the past, they had meeting rooms, billiard rooms, gymnasiums, steam rooms, bowling alley, hand ball courts and administrative offices.
Tampa's mutual aid societies were the forerunners of modern H.M.O's – health maintenance organizations in the U.S.A. They created hospitals, clinics and sanatoriums for the benefit of their members. Besides picnics, luncheons and banquets, they organized group excursions to raise impressive amounts of money and bring together huge crowds of people.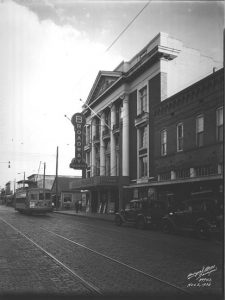 But it was 1918 and our country was in World War I and President Woodrow Wilson declared May 24, 1918 as "Italian Day USA" in celebration of Italy joining the U.S. and the allies in the war in Europe. The Italian Club was already oversubscribed in the red cross and liberty bond drives but the Italian community in Tampa came together, with the Italian Club and its Ladies Auxiliary, sponsoring a huge grand parade starting at the corner of their brand-new clubhouse with 8000 people parading down 7th avenue to Nebraska, down passed the train station to Lafayette Street and ending the parade in front of the old minaret county courthouse across the street from the new City Hall.
Then, as the first World War was coming to an end in Europe – the USS Tampa was torpedoed near Wales, England killing all on board, including a young Italian boy – age 15 – from Tampa called Jimmy Ross – but whose real name was Guerrieri, and all the Italian community in Tampa went into mourning.
The Italians had arrived in Tampa in the late 1880's and had formed an Italian Club as early as April 4, 1894 with 127 members providing numerous cultural, educational and medical services and financial aid to the families of deceased members, thereby, enhancing the quality of life of their members. The Italian Club was the second mutual aid society in Tampa history – the first being the Spanish club Called El Centro Español founded in 1891. Eight of the Spaniards that had formed that first mutual aid society three years earlier, joined the 116 Italians and together formed the first Italian Club. Bartolomeo Filogamo was elected as the society's first President. He was Sicilian and left the old world in 1885 as an early pioneer in New Orleans, Louisiana before moving to Tampa in 1889, ahead of the major immigrant stream of Sicilians. He was linguistically talented and became a bookkeeper in the Pendas and Alvarez Cigar Factory and came under the guidance of Enrique Pendas who was a pioneer in founding the Centro Español Club and was President at the time the Italian Club was first organized. In 1901, Gaetano Ciccarello followed as President. Then, Philip Licata led the Club for a long period of 18 years that saw much growth and prosperity. It was during Licata's presidency that the first 3-story Clubhouse was completed and dedicated during the Columbus Day celebrations in 1912. Unfortunately, it burned 3 years later in 1915. By April 1917, construction started on clubhouse number 2. It was dedicated in 1918, all under Licata's guidance. No other president has served as long as Philip Licata.
In their cantina, they had gaming tables for chess, dominoes, cards, billiards, pool, bríscola, scopa, and checkers. This historic building includes a magnificent ballroom for banquets and dances, an auditorium with a theatrical stage, a spacious cantina with dance floor, library, recreational rooms, and had space for a walk-in clinic and pharmacy. It even had a gym room and bowling alley. The building stands as an impressive monument to immigrant achievement. Today, the building is listed in the national register of historic places.
The Club sponsored family picnics, group excursions, parades, Festas, sporting competitions, soccer and baseball teams, theatrical performances. World class performers and famous opera stars gave concerts bringing large crowds and producing significant revenues. On Saturday evenings, 2 bands played, one in the upstairs ballroom and the other band played in the downstairs canteen – one played soft sedate music for the parents and the canteen played popular songs for the young crowd.
In the early 1900's, there were five Italian (language) schools in Ybor City where many children learned their earliest English language words and phrases.
The Italian Club promoted a vigorous cultural development and included a library with different newspapers, magazines and a collection of classical novels – some of which were read by the lectores in the cigar factories.
As early as 1911, the Italian Club participated for the first time in the Gasparilla parade with their beautiful horse drawn carriage pulled by two beautiful white horses, decorated with beautiful fresh flowers and showing off the club's first queen Sara Puglisi and Lena Caruso, her maid of honor.
In 1912, the Italian Club membership skyrocketed to 600. To celebrate the accomplishment, a grand picnic was held at DeSoto Park in Palmetto Beach. One of the events of the day was a 4-mile foot-race from the county courthouse square on Franklin Street and Lafayette (now Kennedy Boulevard) to DeSoto Park.
They sponsored excursions to Pass-A-Grille and Anna Maria Island on one of the Collier Line' boats. They would leave early Sunday morning from what is now the site of the riverside Hilton (on the Hillsborough River near the Kennedy bridge) and return late at night. There would be music on board and many picnic baskets were taken to feed everyone.
The street cars were our main method of transportation to get around. The trolley took those attending to Ballast Point for Sunday outings and to DeSoto Park (Palmetto Beach) and up to the Hillsborough River Dam – today's site of Rogers Park Golf Course. Newspapers frequently noted these activities, such as one July 1911 Sunday outing – "600 Italians left on the favorite yesterday at 9:25 am for St. Petersburg and Anna Maria Key."
In 1924, the club enjoyed a mammoth picnic to celebrate a membership drive that had successfully enrolled 1000 new members. L'unione Italiana's 1800 members and their families gathered at the farm of Val Antuono – the cigar manufacturer – and posed for a panoramic photograph that still hangs at the Club. The Club maintained an active and vigorous cultural and social life.
In 1920, during the presidency of Philip Licata – the club purchased a 3-story brick building next to the clubhouse and it served as a medical clinic for its members. They provided classes to learn English, arithmetic, and American government to help in becoming naturalized American citizens. All of this helped in the adaptation of a new country and a new way of life while maintaining ethnic identity and community interaction.
In 1929, during the presidency of Vincent Cannella, Italian Day at the Florida State Fair drew a huge crowd at the Italian exhibit. Cigar manufacturer Val Antuono brought 700 boxes of Italian products and art objects that were on display at the state fair. W. G. Brorein, president of the State Fair Association welcomed the Consul General of Italy accompanied by Joseph Barcelona, the Italian Consul in Tampa and who had served as President of the Italian Club in 1925, together with Tampa Mayor D. B Mckay, City Councilman Albert D'arpa, Judge Joe Spicola, Sr., Architect Ivo De Menicis, Philip Licata, Joe Pullara, Peter and Francesco Friscia, Gaetano Spicola, Sr., Ignacio Zambito, Judge I C Spoto and Sam Minardi.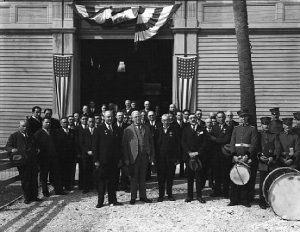 The Italian Club has had a significant role in community leadership and political history. Generations of their membership have been active in electing Mayors, City Councilmen, County Commissioners, School Board Members, County Tax Collector, State Aattorneys, Judges, Senator and Public Defender. Names like Nick Nuccio, Philip Licata, Frank Cannella, Dick Greco, Albert D'arpa, Joe and Pam Bondi, and Bob Bondi, Charlie, Joe and Guy Spicola, Nelson Spoto, Richard Lazzara, Bill Castagna, Mark Pizzo, Vince Giglio, Nick Falsone, Ron Ficarotta, Joe Chillura, Al Chiaramonte, Angelo and Jimmy Greco – and so many more, are part of the community service mosaic with roots in the Italian Club, that have made Tampa great!
In the near 125-year existence of the Italian Club – they have had some 40 dedicated presidents – some more successful than others because of the economic and social conditions of the moment – but the longest serving president was Fillipo Fiorito Licata – whom everyone called Philip Licata – a dynamic leader born in Italy and coming to Tampa at age 14 in 1891 thru New Orleans. He served as president of the Italian Club 17 consecutive years during an extraordinary growth of the Club. He inaugurated 2 separate Clubhouses – social buildings – the first building burned 3 years after it opened, and the second clubhouse was completed in 1918 – that we celebrate today.
Before Licata was elected president of the Italian Club in 1907 – he had already been elected Tampa City Councilman at age 25 representing Ybor City for 2 years from 1902 to 1904. At 30 years of age, he assumed the leadership of the Italian Club during 17 crucial years of growth and development. His daughter Concetta married a young Nick Nuccio who would follow in his father-in-law's footsteps getting elected to Tampa City Council, then on to the Hillsborough County Commission and then twice elected Mayor of Tampa in non-consecutive terms. Joseph Barcelona was their president from 1925 -26, followed by Antonio Reina in 1927 and Antonio DiBona in 1928. Reina was soon elected to City Council. As an Italian immigrant, he had arrived as a school teacher in the Italian Methodist school in Ybor City and served as Vice President of the Italian American Civic League.
Then came Paulo P. Longo – who gave 75 years of active service to the Italian Club. He served as President 3 separate times, in 1933 during the national depression; then following the 2nd World War in 1945; and then again in 1949 and 1950 as our country went into the korean war. Longo, like so many other loyal members – worked all aspects of Club life – from cooking pasta – to managing the club's baseball team – to delivering eulogies at funerals. He said during an interview – "next to my family – La Unione Club is my family."
In 1934, a separate Italian organization in the neighboring West Tampa called the Sicilian Club merged with the Ybor City Italian Club, now called L'unione Italiana, bringing together a membership of more than 3,000 members under the leadership of Paolo Longo.
Paolo Longo was an outstanding civic leader. The Italian Club established the Paolo Longo award that honors the memory of this outstanding Italian American and a community role model, who was also a community activist and a champion of enhancing Italian culture, heritage and traditions. At the age of 21, he had joined the Italian Club and served 73 fruitful years – 3 separate terms as president of the Italian Club. He founded the Columbus Association; was President of the Nuova Sicilia Lodge; Grand Master of the Florida Order of Sons of Italy; Worshipful Master of the Universal Masonic Lodge #178; and received the Star of Solidarity from the Italian Government. The Paolo Longo Award is given annually by the Italian Club recognizing a local community leader who has worked tirelessly to enhance the history and Italian culture and heritage in Tampa.
Floor space in the building next to the Italian Club was made available free to the Tampa Public Library "at no expense" so that a branch library in Ybor City could be opened.
Their clubhouse has been the center of social and cultural Italian community activities. Thru its halls have passed internationally famous artists, diplomats and public figures. During World War I – the club conducted liberty bond drives and many of its members served in the armed forces. During World War II – 265 members were serving our nation and the club purchased $62,600 in war bonds to help this nation finance the war effort.
In 1994 – under the leadership of President James Granell, the Italian Club celebrated its centennial, perhaps the oldest Italian organization of its type in our nation.
More recently, as we entered the 21st century, Joseph Capitano, Sr., another outstanding community leader, served as President of the Italian Club for 8 years and the current President Sal Guagliardo has served during the last 9 years, they have been great benefactors to the Club.
Another interesting tale is the Philip Shore story. Filippo Costa – was born in Italy in 1875 and in 1896, arrived at Port Tampa and established a mercantile store there. In mid-1898, during the Spanish American War, he served in the Naval Reserve. The following year, 1899, he took an important position with the Henry B. Plant Railroad and Steamship Company. When he became a naturalized American citizen, he asked the Judge to change his name to Philip Shore – he wanted to be more American. In 1908, he established the Tampa Inter-Ocean Steam Ship Co. and in a short time, it became an important steam-shipping (forwarding) agency in Florida and later he became President of the Philip Shore Shipping Company owning tug boats and ocean-going steamships. During WWI, he opened a nautical school to train young men for sea duty. He rendered great service as a member of the sea service of the U.S. Shipping Board. He served as Chairman of the Hillsborough County School Board from 1917 to 1922.
In 1926, they dedicated a beautiful school building on 19th Street and 2nd Avenue and named it in his honor – The Philip Shore Grammar School – built in the Italian section of Ybor City……two blocks behind the Italian Club.
Tampa's rich Italian community boasts a long heritage and tradition besides the century-old Italian Club – L'unione Italiana – they also had Societa Italia, La Nuova Sicilia Club, Societa De Soccorso Mutuo and Sons of Italy leaving a proud legacy in the hearts and minds of generations of families who left Italy to seek and achieve the American dream in Tampa, Florida.
For more than a century, the Italian Club has made lasting contributions in preserving the colorful ambience of Italy, which has enriched the cultural life and development of the Tampa community.
For more than 100 years – the Italian Clubhouse in Ybor City has been a social hub of the large Italian community. Thru its hall, ballroom and cantina have passed internationally famous artists, diplomats, public and political leaders. The Italian Club in historic Ybor City is a significant landmark of the vigorous past of European immigrants, their children and rich legacy of Americanism.